The 2021 Subaru Love Promise Customer and Community Commitment Award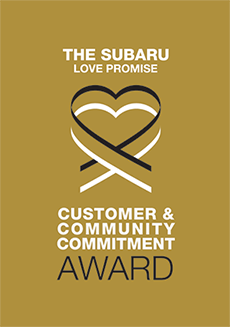 We've been nationally recognized for our dedication to our customers, our community, and the Subaru Love Promise.
We're honored to receive the 2021 Subaru Love Promise Customer and Community Commitment Award. This award nationally recognizes elite Subaru retailers who provide an exceptional customer experience at every interaction with Subaru. These retailers have also demonstrated an outstanding commitment to supporting passions and causes in their local communities in important areas such as the environment, community, health, education, and pets.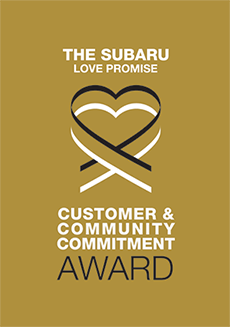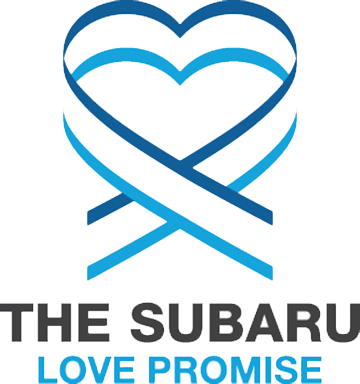 What is the Subaru Love Promise?
Subaru and our retailers believe in making the world a better place and the Subaru Love Promise is our vision of respecting all people. This is our commitment to show love and respect to our customers and to work to make a positive impact in the world.
How is Schulte Subaru dedicated locally to the Love Promise?
We believe in being a positive force in something bigger. And it all starts right here in our community. Not just by our donations, but by our actions. That's why we stay true to our Love Promise Community Commitment by partnering with a wide variety of community nonprofits and charities. Every year, we join hands with our owners in the "Share the Love" event, giving back to our community-a community that's given so much to us. So, every day, we strive to ensure our love is felt not just by our customers, but by all in our community. We do this because we feel it is the right thing to do. We are proud to participate in the Love Promise Community Commitment. We're grateful, not only to be a part of our community, but to serve and support the causes and passions that are closest to our hearts, right here in our neighborhood. All of the organization we support have one thing in common: the unwavering dedication to improve the world and the lives of its people.
Sioux Falls Humane Society, B-Squad dog Rescue
Children's Home Society/Loving School
Meals On Wheels/Active Generations
Great Life, Sanford Health, Avera Hospital
Love Promise Stories from Schulte Subaru
Subaru and Schulte Subaru believe in making a positive impact on the communities in which we live and work. We uphold that belief through our Love Promise Community Commitment. Every month, we select inspiring stories from customers and partners from around our area who strive to support our collective commitment and feature them here
Subaru Loves Learning - Sioux Falls School District J
August 18, 2021 – Hawthorne Elementary today received a donation from Schulte Subaru to support teachers and students through a larger Subaru of America, Inc. (SOA) initiative called Subaru Loves Learning, an initiative helping to further equity in education. Teaming up with philanthropic partner AdoptAClassroom.org, Hawthorne Elementary and more than 600 schools across the country received funding to equip their classrooms with the resources necessary for students to learn and thrive in school. Nationally, this landmark partnership will benefit more than 114,000 students during the 2021/2022 school year. As part of the August initiative, which aims to help make learning accessible to as many children as possible, the Schulte Subaru donation will support more than 330 students at Hawthorne Elementary. Our school will be able to purchase the supplies, materials and tools our students need through the national non-profit, AdoptAClassroom.org. These vital classroom resources are intended to enhance education and help Sioux Falls students learn and succeed in school. "Sioux Falls is such a generous community. We value the partnerships we have with businesses like Schulte Subaru that recognize and invest in the future through education. The Schulte Subaru family has a proven track record of promoting kindness and inclusion, which are the same values we work hard to instill in our students. Hawthorne Elementary is lucky to have been chosen for this generous gift," said Hawthorne Principal Stephanie Jones. Inadequate classroom resources threaten the success of schools. In fact, according to AdoptAClassroom.org, 92 percent of classrooms have students whose families cannot afford to purchase any school supplies for their children. Research indicates that use of hands-on learning materials in the classroom has a direct and positive impact on student achievement and future success in school and in life. Through the partnership with AdoptAClassroom.org, Schulte Subaru will help Sioux Falls students secure the resources they deserve to succeed in school.
---
Giving a human voice to all animals in need - Kori B
As the recipient of Share the Love, the Sioux Falls Area Humane Society has been able to fulfill its mission for the over 10,000 animals per year that we take in. Schulte Subaru works and gives with heart. Their staff is excellent, their compassion is huge. We would not be able to do what we do without them. We are able to help animals that have been abandoned, abused, and neglected, and find them loving forever homes. As humans, we are their voice. We are able to spay and neuter all animals before leaving and give all vaccinations before they go to their forever homes to help the pet overpopulation and breeding problem. They deserve more... and we can help give that to them with the generosity of Schulte Subaru. Meet Wrinkles, left to die with mange, and after care and treatment (and LOTS OF LOVE) from the staff at the Sioux Falls Area Humane Society! Kori B
---
Beautiful Birthday Blessings - JULIE M
For several years now, more than I can even remember, our daughter has been dealing with chronic and life altering health complications that have changed every part of her daily life. Each day is filled with more medications a person can comprehend, and pain that is unceasing and debilitating each and every single day without respite. When covid entered the picture for everyone in the world, this further complicated our daughter and our families life. Her illness combined with the covid epidemic created an atmosphere of isolation and utter loneliness. As spring turned to summer, and summer to fall, life begin to return to a "new normal" for many. Kids went back to classrooms, and people to offices. Our daughter however, remained separated, isolated and often times forgotten. Due to her multiple diagnoses, contracting something like covid puts the risk too high to take a chance at getting. So, home she stays, with the occasional trips to doctors' appointments and picking up items at drive ups only. It's been heartbreaking to watch her feel so isolated and alone. Most days she doesn't have the energy to do more than a few tasks (part of the side effects of her condition). In October, we had to add a wheelchair to the mix for the days her body just couldn't support her. It's been devastating to watch the progression take over her. I have a few friends that work at Schulte Subaru. They've always been huge supporters of our daughter and her journey. When they heard her Sweet 16 was coming up, and she was going to have to forgo normal teenage parties and activities, the amazing crew there sprang into action to make it a special day for her....and that they did. We went for a "drive", and started to pull into the dealership. Our daughter seemed genuinely confused as to what we were doing and thought maybe it was a quick bathroom pitstop?! (we've deemed the dealership a SAFE spot as they do SO much to ensure the staff is all healthy and covid free!). As we pulled up, suddenly ALL the staff there, SO many people starting flooding out of the building...still a bit confused (she thought maybe they had a fire alarm go off??) we got out of our car...and then it hit her. They were carrying balloons and gifts and were SINGING Happy Birthday to her! I'll never forget how that felt as a mother. I'll never forget the look on her face during. The tears of gratitude were flowing. I will certainly never forget the kindness and generosity of the staff, and Mike himself who wanted her day to be a special day. I will never forget the conversations after where she just couldn't believe that all those people who had never met her, cared enough to come out (in the snow and cold!) to wish her a Happy Birthday. When you speak about an organization that truly embraces and loves there community fully, truly and without hesitation, Schulte Subaru is the first one to come to mind. We are forever grateful because of what they provided us with that day...some happy moments in a very bleak and overwhelming several years. She got to be nothing but an excited and giddy teenage for a short while, with no thoughts of illness, doctors, hospitals or pain. Just a HAPPY 16 year old. There will never be enough times I can say THANK YOU. From the bottom of our hearts...a million THANK YOU's.
---
Stuck in Kalispell, MT - Sandy and Denis L
We were on a road trip in our 2018 Subaru Impreza, which we purchased from Schulte Subaru in Sioux Falls, SD, to Kalispell, MT. On Sept 11th, my husband fell at our motel. His injuries caused him to be in the hospital for 15 days. As his stay progressed, the doctors told us he would not be able to ride in a car for the 1700 miles to get us home. We would need to fly. Our children looked into options to get our car home. Our daughter, who also owned a Subaru from Schulte, called her dealer, Brett Richie and shared our story. He said he would get back to us once he checked with the owner, Mike Schulte. Not hesitating, Mike told Brett that they would take care of us. They sent two of their workers to Kalispell, so that one of them could drive our car home!!! They did this at no cost to us!!! Unbelievable!!!We were so appreciative and have now traded in our Impreza for an 2020 Outback and many of our friends and relatives are so impressed with their kindness that they hope to be customers at Schulte Subaru in the future!!! Thank you so much Mike and Brett and the two fellows that picked up our car... Sandy and Denis Lepkowski
---
Meals on Wheels Loves their CARS - Rebecca B - Rebecca B
Yes, that is right - CARS!! Who gives not one, not two, but THREE brand new cars to the local Meals on Wheels program? Mike Schulte and Schulte Subaru that is who! Active Generations' Rod Carlson, Director of Marketing, and I met with Mike and Lisa (Schulte's Marketing Manager) to discuss our need for a new vehicle for the meals program, as one of our Hot Shot vehicles needed replacement. We wanted to see if they would work with us on getting a different vehicle; we told them what we were looking for, and they were going to look to see what they could find. Shortly after our discussion, the COVID-19 outbreak occurred, so we anticipated a "pause" in the conversation on vehicles. Instead, Lisa and Mike called AG wanting to know if we needed any extra cars to deliver meals, as our deliveries had increased. They were willing to let us use a couple of their cars to help get hot, nutritious meals out to seniors. We thought "Fantastic, how generous!" Within the hour, Lisa called back asking if I could come out to the dealership to look at a couple different options they had in mind for us. One of the salespeople showed me two different models; after looking them over, I went inside and told Mike that either one of them would work. Imagine my surprise when I was asked, "Do you think it would work to GIVE you 3 new cars?" I argued that we could not possibly accept that kind of generosity, but Mike was insistent. Within days, all three cars were delivered and labeled with our logo on them. Even further, Schulte Subaru provided us free car washes and two years of paid routine maintenance. We were blown away!! The giving did not end there; 10 members of their Subaru team have come to AG every Friday to help pack 500 + meals for people in the Sioux Falls community. They also donated over100 masks for seniors. Our mission is to serve hot, nutritious meals to seniors throughout the Sioux Empire. With the help of Mike and his team they have made our mission much easier. We cannot put into words how grateful we are for all they have done for Active Generations.
---
Always making a positive community impact - Kori B
The Schulte Subaru team is amazing. The Sioux Falls Area Humane Society was low on food for the Community Food Bank. The food bank is available to assist those who cannot afford food for their animals when they experience tough times. Many people would have to give up their family pets if we did not have this food bank. One ask...that's all it took. The Schulte Subaru team started collecting food at the dealership and within a short period, the shelves were full. They even hand delivered all of it!! This food bank is so important to our community as a whole.. not only do they help with special needs, but all the time.. Animal lovers at heart, and its genuine. Thank you Schulte Subaru!! We Love you!
---
Schulte Subaru--Made a Believer Out of Me! - Tony W
As someone new to the 'Subaru Experience', I have been overwhelmed with the compassion, generosity and respect of all those we've dealt with at Schulte Subaru in Sioux Falls. In June, I started helping my nephew look for a used vehicle to replace his 2001 Subaru Forester that had close to 230,000 miles and was nearing the end of its road life. I reached out to Lisa Mannes at Schulte Subaru who graciously offered to help in any way she could. Lisa said she was also going to request Jeremy Griffith's expertise and assistance in finding an affordable, safe and reliable vehicle for Tony. I explained my nephew's situation: parents were both deceased by the time Tony was 13 years old, he then lived with his Grandma through high school, after graduation he attended SDSU from which he graduated with a B.S. degree (first in his family to graduate college) and he is now working in sales in Sioux Falls. Tony had received a sum of money from a relative which originally had been intended to assist with his college loan debt, but you can't make loan payments if your car breaks down and you can't get to work. Lisa and I touched base throughout the summer and into the fall, but no vehicles seemed to meet both our price and reliability criteria. The search continued. In early November, I found a car on the Schulte website that warranted consideration. I really don't believe in 'coincidence' and the way things fell into place proved just that. The vehicle I saw on the website was not yet even at the dealership, but when it arrived Tony and I went out after work for a look. Salesman Mike Miller explained more about what makes the Schulte dealership different from others, showed us the car and let Tony take it for a drive. Things just got more unbelievable from there—Jeremy helped him with the price of the vehicle and offered an incredible warranty, they did an inspection on an 'AS IS´vehicle and completed additional maintenance and replacement work (filters, oil change, tire rotation, wiper blades, etc.) On Thursday, we signed the paperwork and Tony was the proud owner of a 2014 Subaru Legacy. The Subaru Love Promise states the goal of making a positive impact in the world. Schulte Subaru has certainly done that in ours! A heartfelt thank you to Lisa, Jeremy and Mike!! Jolee Thurn Sioux Falls
---
Gus's Road to Recovery - Lisa M
On February 27th, 2019, our sales consultant Vince Byers received and email that struck close to home for him. Emily, a customer of Schulte Subaru reached out to him and asked if she could trade in her recently purchased vehicle for a more used, less expensive SUV. After Vince and her spoke in more detail, he found out that her Golden Retriever "Gus" had developed cancer and would need to endure leg amputation as well as some chemo treatments every other week. As a fellow Golden Retriever owner himself, Vince felt the need to try and help in any way he could. He met with the owner of Subaru, Mike Schulte with the details of Emily & Gus's situation. A customer willing to give up a vehicle they love in order to make ends meet with a greater love for their animal spoke volumes to both Vince and Mike. As a very pet friendly organization, the Schulte family stepped in to help and donated the remaining fund needed to complete Gus's chemo treatments which allowed Emily to keep her vehicle that she loves, while at the same time getting Gus the treatment he needed to start his road to recovery!
---
Providing Comfort & Hope to Blood Cancer Patients - Shannon B
On June 20, 2019 Schulte Subaru and The Leukemia & Lymphoma Society (LLS) spread love, hope and warmth to blood cancer currently being treated at Sanford Children's Hospital. Subaru customers and employees wrote messages of hope on care cards that were then handed out alongside donated blankets to provide comfort to pediatric patients receiving cancer treatment this summer. Local Sioux Falls three-year-old Henry accepted a blanket on behalf of other kiddos just like himself being treated at Sanford. Last year, after his mom Rebecca noticed abnormal bruising and a rash on his scalp, she took Henry straight to the hospital and heard the worst words: high risk leukemia. Henry quickly began treatment at Sanford and has been a trooper through all the pokes, prods, and chemo ever since. During the Loves to Care event, Henry was accompanied by his biggest cheerleaders of all – Mom, Dad, and big siblings William, Evelyn and Vivian. Also surrounded by some of his very own Sanford Children's nurses, local LLS staff, and Schulte Subaru he was thrilled to receive a blanket, craft kit, and another very special gift. Schulte Subaru owners, Mike and Julie Schulte, gifted Henry his very own iPad to provide entertainment during his long waits at the doctor's office. Henry's mom Rebecca says, "We have been incredibly overwhelmed at the outpouring of support our family has experienced from members of the community. The very thought of it often brings me to tears. The support we have received has helped us get through this time of trials and tribulations. We are especially grateful to LLS and to Schulte Subaru for their donation of blankets, art kits and tablets to not only our little Henry but also to the Sanford Children's Hospital Oncology Unit and the families they serve. Those items really help comfort and occupy the children and their families as they endure their chemo treatments."
---
Safe Place Family - Caitlin O
On May, 3rd 2019 I have experienced a huge unexpected life change. I went from having no children to watching after three children in less than 24 hours... a 4 year old, a 5 year old, and a 10 year old. With this change came unexpected expenses and emotional challenges. These children had no clothes other than the clothes on their backs and the shoes on their feet. They also did not have proper car seats to ride safely in a vehicle. As a 19-year-old, working two jobs, and now have the responsibility of looking after 3 children in an unfortunate circumstance, I was stuck. My vehicle was just not big enough to fit two car seats and still have room for a third child and my checkbook was not full enough to provide these 3 children with new clothes, from shirts down to their shoes. With the love and support of Mike Schulte and the Schulte Subaru employees, a weight was lifted off my shoulders in a time of need. Not only was I lent a vehicle large enough to fit all of us comfortably and was also given financial support in order to put clothing on these children's back but I was given something much more than the financial help. I was given the emotional and mental support by the Schulte Subaru team. I am blessed to be apart of an organization that takes care of their own far beyond just a paycheck."Love is what makes a Subaru a Subaru!"
---