The 2022 Subaru Love Promise Customer and Community Commitment Award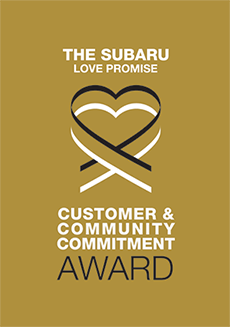 We've been nationally recognized for our dedication to our customers, our community, and the Subaru Love Promise.
We're honored to receive the 2022 Subaru Love Promise Customer and Community Commitment Award. This award nationally recognizes elite Subaru retailers who provide an exceptional customer experience at every interaction with Subaru. These retailers have also demonstrated an outstanding commitment to supporting passions and causes in their local communities in important areas such as the environment, community, health, education, and pets.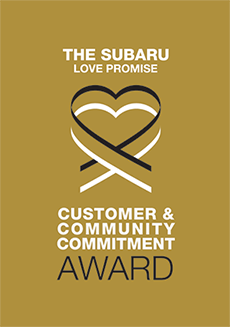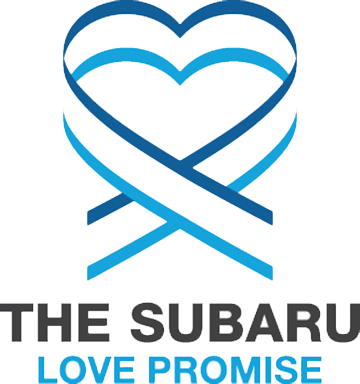 What is the Subaru Love Promise?
Subaru and our retailers believe in making the world a better place and the Subaru Love Promise is our vision of respecting all people. This is our commitment to show love and respect to our customers and to work to make a positive impact in the world.
How is Schulte Subaru dedicated locally to the Love Promise?
We believe in being a positive force in something bigger. And it all starts right here in our community. Not just by our donations, but by our actions. That's why we stay true to our Love Promise Community Commitment by partnering with a wide variety of community nonprofits and charities. Every year, we join hands with our owners in the "Share the Love" event, giving back to our community-a community that's given so much to us. So, every day, we strive to ensure our love is felt not just by our customers, but by all in our community. We do this because we feel it is the right thing to do. We are proud to participate in the Love Promise Community Commitment. We're grateful, not only to be a part of our community, but to serve and support the causes and passions that are closest to our hearts, right here in our neighborhood. All of the organization we support have one thing in common: the unwavering dedication to improve the world and the lives of its people.
Sioux Falls Humane Society, B-Squad dog Rescue
Children's Home Society/Loving School
Meals On Wheels/Active Generations
Great Life, Sanford Health, Avera Hospital
Love Promise Stories from Schulte Subaru
Subaru and Schulte Subaru believe in making a positive impact on the communities in which we live and work. We uphold that belief through our Love Promise Community Commitment. Every month, we select inspiring stories from customers and partners from around our area who strive to support our collective commitment and feature them here
Birds Nest Saved in a storm! - Sarah S
A robin bird's nest was discovered over a tire of a used vehicle for sale. At the same time Sioux Falls was about to have a major storm front move into the area with 80 mile a hour winds and possible great destruction. The Sales Team at Schulte Subaru moved quickly to save the nest by putting trailers around the vehicle to help protect it and then also informing the team we cannot let that vehicle be sold until the eggs hatch. Pretty cool testimony to what Subaru believes in as well as Schulte Subaru. #Subarulovestocare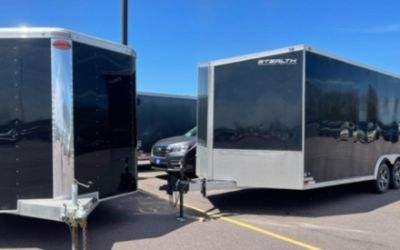 ---
Georgia on my mind - Sarah S
Mike and Sarah Schulte owners of the dealership were in Phoenix Arizona as Mike's father had an emergency triple by pass surgery. It was a Sunday afternoon and Mike's phone rang and it was a customer of the dealership who had purchased years prior a 18 xt Forester for her daughter who was in college in Florida. She told Mike her daughter was attempting to drive home to SD and her forester had stalled in excess 0f 6 times. She had even stopped at 2 separate Subaru dealerships on he trip home. 1 in FL and other in Georgia. Both dealerships told her they could not find anything wrong after quick check ups. The mother was nervous for her daughter to drive the rest of the 1800miles home with a undiagnosed problem. Even though it was Sunday we sprang into action. We called one of our employees who immediately hooked up our truck and trailer and loaded it with a service loaner car. Headed out for Georgia that same Sunday. We told the customer to get a hotel room and we would take car of the bill. After our driver drove straight through to get to Georgia we gave her the loaner car so she could continue her trip home safely. The parents were blown away at the swift and generous actions taken to get daughter home safe. After the vehicle got to Schulte Subaru we quickly diagnosed the Forester needed a torque convertor and valve body. The customer has made several comments that she will always drive Subarus.
---
Not so easy delivery - Sarah S
A customer of ours reserved a car and wanted it delivered to her in Hendricks, MN. (hour and a half away) Easy enough. Car came in, I drove up to deliver it and do paperwork. Everything was going smooth. Then she needed her garage door programmed to the Homelink mirror. Easy enough right? Well she had lost her clicker over 6 years ago! The customer and I searched her house up and down for the lost clicker. After a good half hour of opening drawers and checking miscellaneous boxes with no luck I asked if she had a hardware store in town. She said they did and we were off to purchase a universal remote for her garage door. After getting back I spent another half hour getting her new remote programed to her door then to her car. She was so happy I took the extra time and effort to make her experience extraordinary.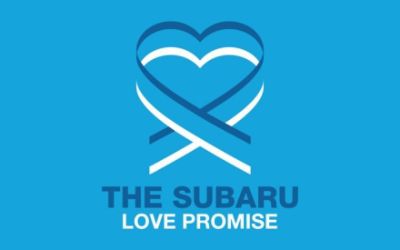 ---
No Service on Sunday-No problem - Sarah S
Sundays we are usually running with a pretty small crew. A couple sales guys and one manager. We get busy easily. Right away when we opened up a phone call came in. A woman crying could be heard on the other end. She wanted to speak with the service department but unfortunately they are closed on Sundays. You could hear her heart sink over the phone as she didn't know what to do. Calmly I asked what she needed. She said she had lost the key to her 2010 Forester and had no way to get to work or go to the grocery store for her children without a vehicle. Promptly I said we will bring you a loaner and address the situation with service tomorrow. Her demeanor instantly changed from sadness to joy and relief. Once I got to her address with the loaner vehicle she was overjoyed that a dealership was willing to jump at the chance to help someone in need.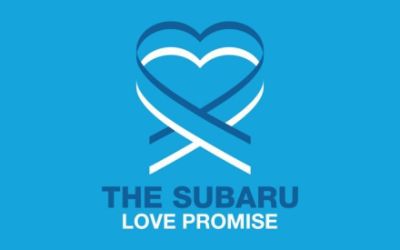 ---
Never too busy to help - Sarah S
Last Saturday we received a call asking for our service department. Service was closed and one of our salesman Blake Hanson took the call to help. There was a older man on the line. He stated his car would not start. Even though it was busy Blake decided to take a jump pack and drive to the mans home. When he arrived and looked at the car he saw that the dash said "access key not dectected" so Blake went inside to help him look for his key. They found the key in the couch cushion. Once they brought the key to the car the car started right up. One thing we love about our staff is they are never to busy to help!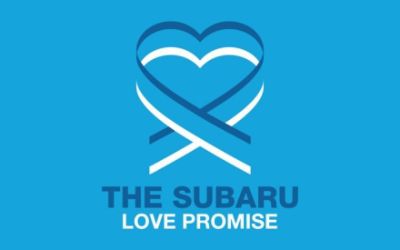 ---
You never know what is going on in someone's life - Sarah S
We had a female customer come into our store to buy out her lease. Our sales manager Andrew recognized the customer and remembered she was a Veteran so stopped to thank her for her service. In speaking with her could tell something was wrong. The customer became emotional and told Andrew that her husband had just left her and her son. Our staff wanted to make sure that we did a few extra things for her to brighten her day. So we gave her a free detail and participated on a new windshield for her Subaru. It goes to show you should always treat people with kindness as we do not know what they are going through.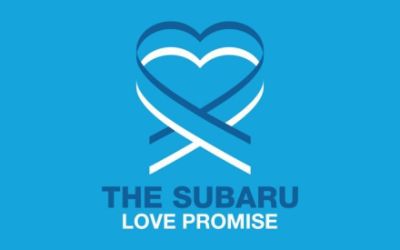 ---
We love happy reviews! - Sarah S
Nothing is better then messages from happy customers! Sharing a positive on a snowy day!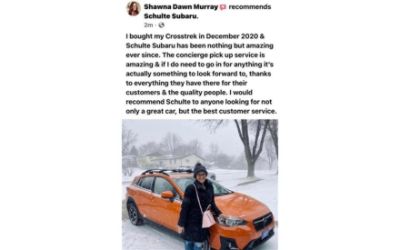 ---
The things that make everyone smile! - Sarah S
Yesterday we had a young man with autism at the dealership and he loves cars. We gave him a tour and then let him take the owners 2005 Turbo Baha with STI upgrade for a long drive. The young man spent several hours with us and when it was time to go he gave everyone hugs and was so happy from his fun experience at the dealership! It feels good to be kind and do things for others that bring us all JOY! :)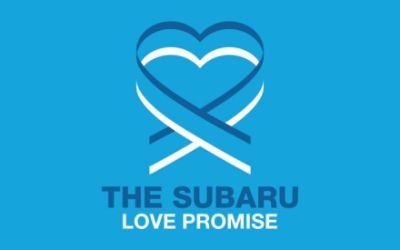 ---
5 Stars!!!!! - Sarah S
We sold a customer a car a year ago. This time she came back for her daughter. She was so pleased with the entire process she gave us a 5 star review and she speaks highly of our team and customer care wherever she goes. She has also made several referrals to friends and family! Thank you Julie!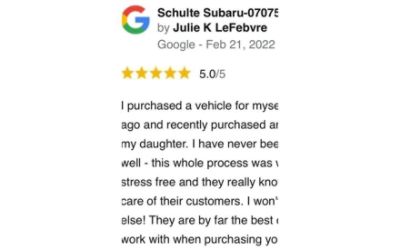 ---
10 year old take away from commercial - Sarah S
We received a email from Brent Hubers with SD Junior Football. Brent wanted us to know his daughter watches all of our commercials while she gets ready for school. She has picked up on our tag line. After each commercial we say Be Kind, Stay Positive, and Think Subaru. Brent attached a photo of her daily routine but he wanted us to pay extra attention to the bottom of the picture......Be kind. How cute and it really shows the impact positive commercials can make at any age. Thank you for sharing Brent! It really made our day.
---