I
t all started with an evening phone call. Mike asked if I was able to leave town for a few days; he had an idea. He had heard that Beaumont, TX was still in need of supplies after Hurricane Harvey, and wanted to donate water, diapers, wipes, garbage bag as well as many other items. Beaumont, TX may not have gotten all the wind but they received massive amounts of rainfall. Neighborhoods were still under water even after two weeks and the damage was extensive.
I, of course, agreed. We contacted another Subaru dealer in Beaumont, JK Subaru and asked them if we could drop off our donations so they could distribute them to their community. We also contacted our local Costco in search of five pallets of water (20,000 bottles) along with two pallets of diapers, and a pallet of wipes, ex-large garbage bags, flashlights, storage bins, and children's clothing. A few hours later and $12,000 lighter, we were leaving Costco. Utilizing two 1-ton trucks and an Outback, each pulling a trailer, the items were carefully packed. The six of us that volunteered to go knew it was going to be a grueling nonstop 36-hour journey; but we were not prepared for what it would bring to the six of us.
                   We were off to a late start but making good time, trying to take turns sleeping and driving with not much success as we were all too exhilarated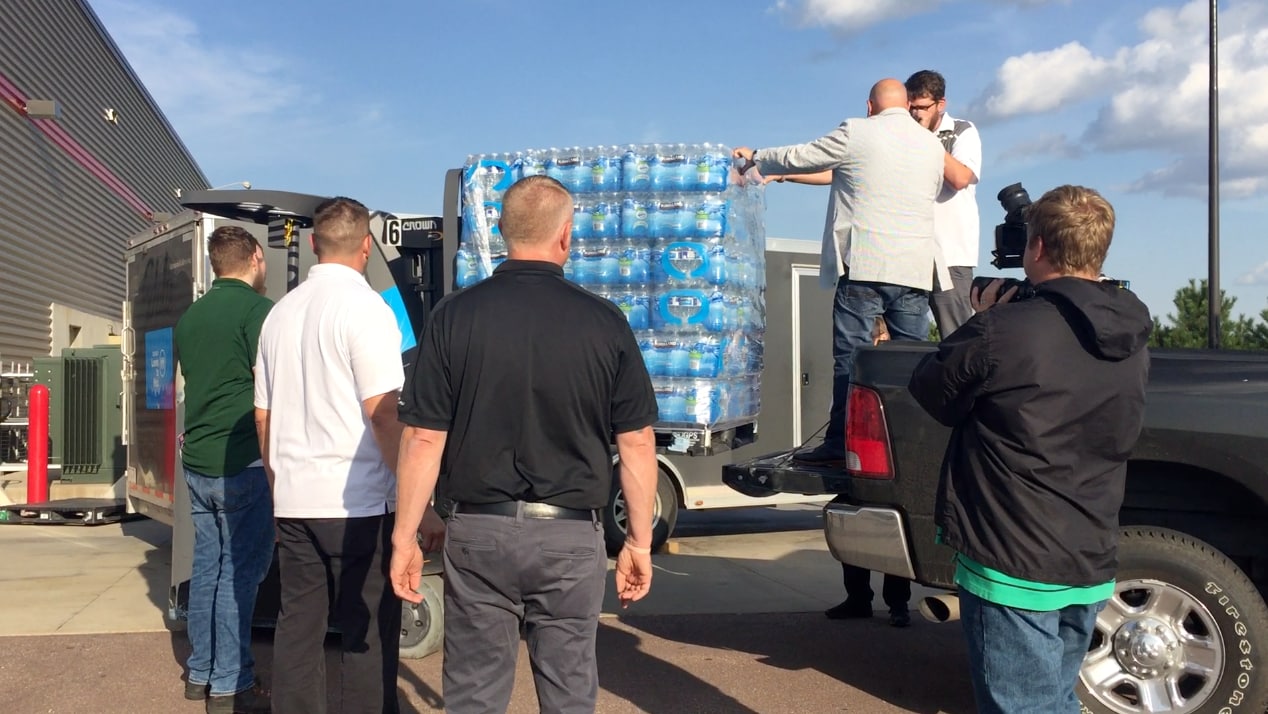 to sleep. We reached Oklahoma City, just after 1am. Just as exit signs started to appear, we were interrupted with a flat tire on one of the trailers. After a three and half hour set back we finally found the correct tire we needed, made the switch, and carried on to our destination.
                  The six of us all work at Schulte Subaru, we all knew each other by name, Kevin, Trevor, Milo, Kris, Allen, and I, but never worked side-by side until this trip. As the trip progressed we got to know each other and grew closer. During each gas stop we'd gather to check on each other, share a few stories about ourselves and what we were experiencing, physically and emotionally.
        When we were about three hours from Beaumont, TX I called our contact at the distribution center, which JK Subaru the local Subaru dealership had provided us.   I let them know we were a little delayed but we were on the way. She told me they would wait for us no matter how long it took. We had no idea what was to come. As we traveled closer and closer, we started to see the effects of Hurricane Harvey. Roads were littered with household belongings as well as cars and trucks that were carried from the water flow. Dump trucks and bulldozers lined the streets in an effort to clear the rubble.  People were among the debris, trying to help each other climb out of the horrific mess.  We soon realized that the media had since moved on but the need was still there. Many people were still without running water, clean clothes and no food, even after two weeks. As we continued to get closer to our destination, Trevor turned to me and said, "Can you imagine one day having a roof over your head, and food and water and the next day having nothing not even clean clothes?" It was apparent; we were all counting our blessings.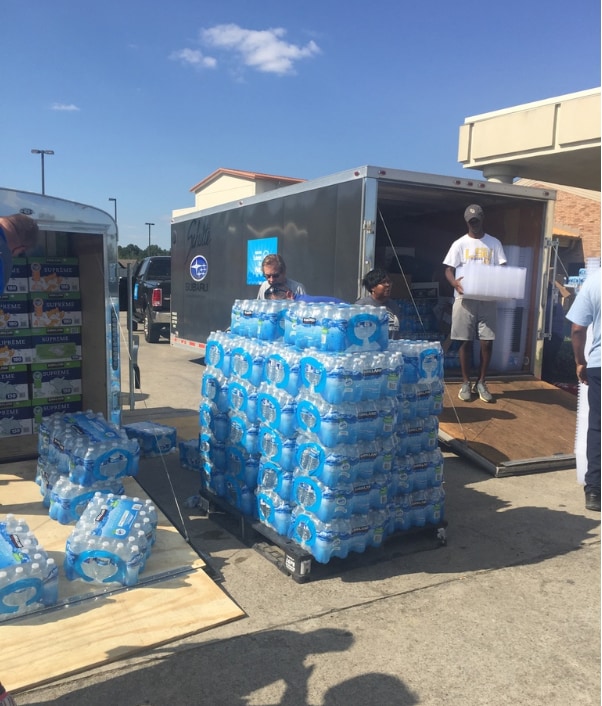 Pulling up to the distribution center, which was a church, I rolled down my window and I'll never forget the greeting we had. The appreciation and gratitude was palpable. We were told thank you over and over again. The timing couldn't have been better as several church members said they ran out of water and other supplies that morning. We barely got out of our vehicles to help them unload and people were lining up for water and other supplies. 
Many church members had been helping since the beginning of Hurricane Harvey , even though they had damage to their own homes. They felt others had a greater need than them. In the beginning, they packaged individual diaper bags with diapers, wipes, formula, and other packages with hygiene products, and of course water. Soon they became a larger distribution center, when other churches in the community began to reach out to them for help. This allowed more supplies to reach more people.  They were so grateful for all we brought that there were lots of hugs, photos, sharing even a few tears.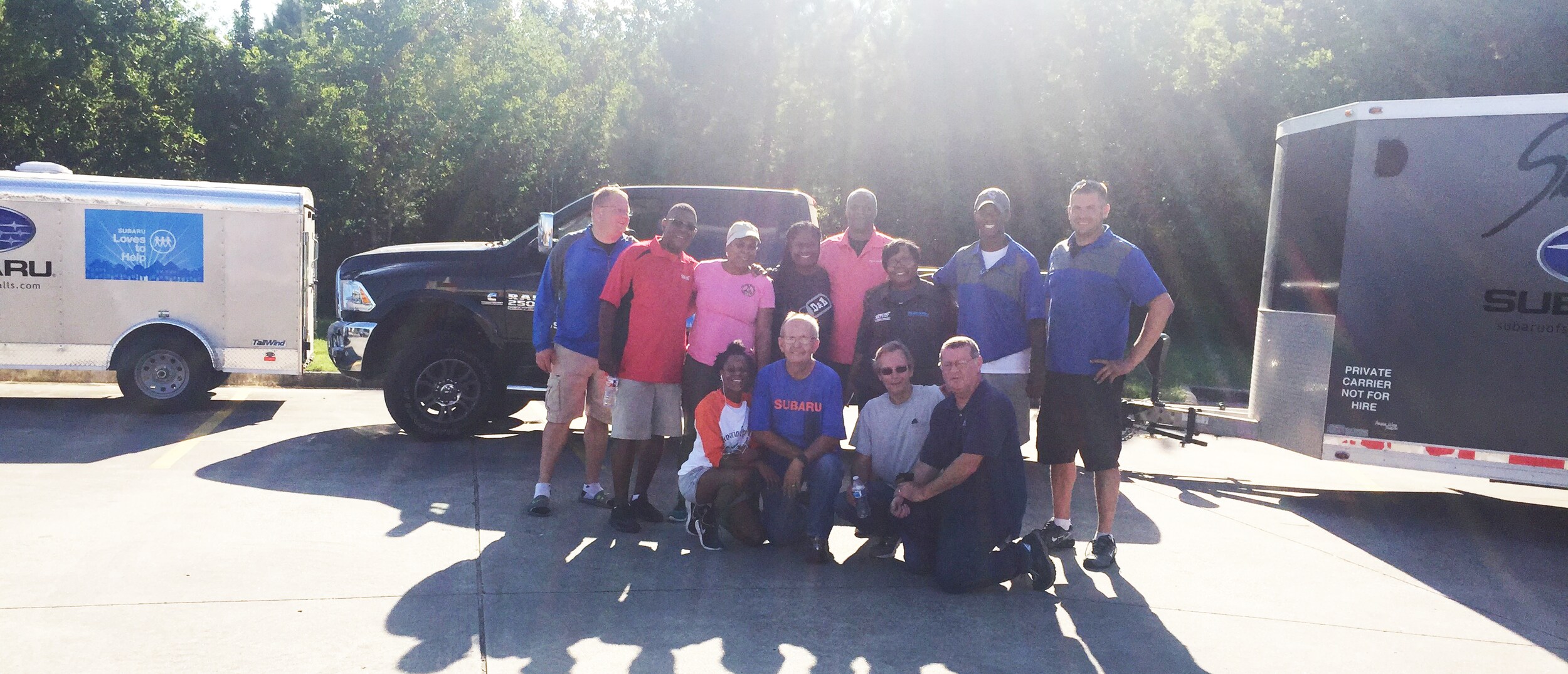 The 6 of us came out of this experience (adventure) with different things but some of us were giving back, some of us were paying it forward and some of us were doing it because we wanted to help. And we want to thank Mike and the other staff at Schulte Subaru for coming together for a cause; to get supplies to those without. Being able to witness the selflessness of people and everyone lending a hand to help in any way they can was heartwarming. This humbling experience will be remembered by all of us and I will forever be grateful to Mike Schulte and Schulte Subaru for letting me go on the journey to Beaumont, TX, because it was the right thing to do.