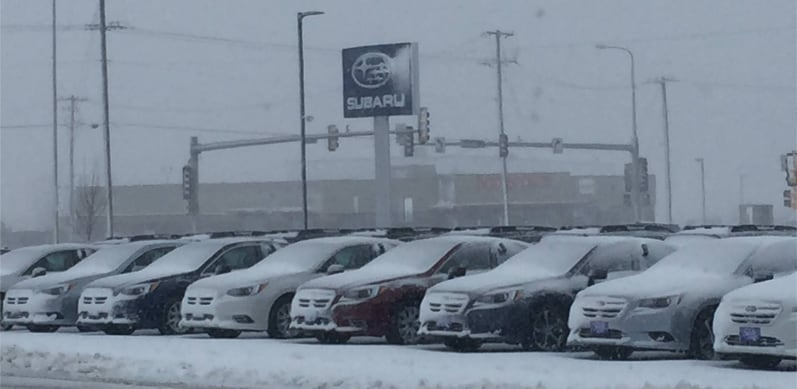 The end of the year is fast approaching, and with it, another winter season of hazardous road conditions, and now is the time to start getting that Subaru ready to take on the snow and ice. Here at Subaru of Sioux Falls, we want more than anyone to make sure that you and your Subaru are ready to take on the winter roads ahead. So, to help you out, here are some tips on how to get your car prepped for the cold months ahead.
Check Your Engine: While summer months can be merciful on certain engine problems from constant stalls to hard starts and anything else in between, but the winter months are not as forgiving. Make sure your engine is running smoothly before the temperatures begin to really drop. On top of that, you should also get your car battery checked, as well as check your transmission.
Change Fluids and Filters: Not all car fluids are created equal, especially when it comes to the seasons. Colder temperatures call for a thinner grade of motor oil, as well as a cooling system mixture of 50% water and 50% antifreeze. You also want to replace all filters.
Change Tires: The only thing scarier than an icy road is being on an icy road with the wrong tires. Check the type, tread, and pressure of your tires and replace them if necessary.
Check Brakes: Cold and icy conditions also call for brakes in good condition. Get your brakes checked and replaced if necessary.
Check Lights: With winter comes longer nights. Take the opportunity now and get those burnt out bulbs replaced.
Get Your Subaru Ready at Our Dealership Today
Once you have your winter checklist down, you want to make sure your vehicle is serviced the right way the first time. So, schedule an appointment with our Service Center today and let our trained Subaru technicians elevate your vehicle to its peak level of winter performance. For more information on our Service Center or if you have any questions on how you should specifically prepare you Subaru model, please feel free to contact us directly either by email or over the phone during our normal business hours.