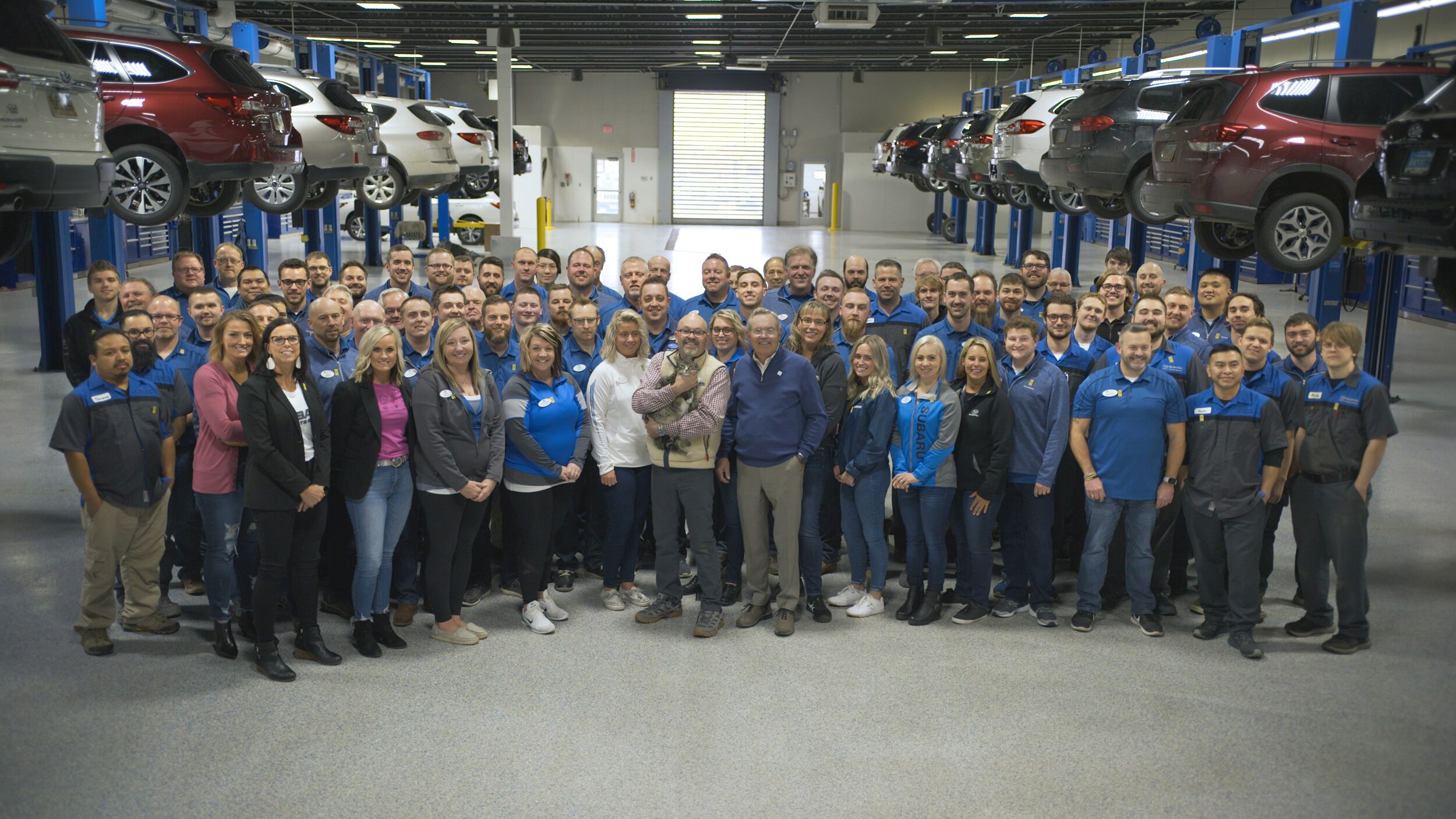 *Video filmed before Covid-19. Schulte Subaru currently practices safety precautions.

If you would like to learn more or help our partners,
click on the links below to volunteer or donate today.

Here is what Subaru of America has to say about our recognition.Congratulations to Schulte Subaru, 2020 Subaru Love Promise Retailer of the Year.

At Schulte Subaru, kindness isn't just a word. It's a way of doing business.

For 50 years, one act of kindness has led to another. And another. The Schulte family opened their hearts to the Sioux Falls community, beginning with Terry Schulte back in 1970 and continuing today through the incredible passion of Mike Schulte. Their philosophy is simple: If you treat people right, the business will take care of itself.
Committed to the community.
Whether it's supporting 10,000 animals yearly at the Sioux Falls Humane Society with donations of $500,000 since 2014 or donating custom vehicles to help the B-Squad Dog Rescue team transport thousands of at-risk dogs, Schulte Subaru has been a true friend to animals in need.

Their generosity also extends to the Children's Home Society, a wonderful organization offering shelter to children in abusive environments. Schulte Subaru has donated more than $125,000 over 10 years.
Committed to going above and beyond.

At Schulte Subaru, the Love Promise can always go further. On one dangerously cold minus-40-degree day, they actually closed their store and sent the entire staff out to jump-start and rescue 125 frozen cars. What's more, when a teen vandal caused extensive damage to cars in their lot, Mike didn't press charges. Instead, he made every effort to help the young man and even gave him a job at Schulte Subaru.
Committed to customers.
This remarkable kindness extends to their customers too. They boast a fl eet of over 100 loaner cars (yes, we said 100) and they've recently nearly tripled the size of their service facility, ensuring customers a great experience.
This devotion to providing stellar service has earned them the Love Promise Customer and Community Commitment Gold Award in 2018, 2019, and 2020, as well as making them a Stellar Care Award winner in 2015, 2016, and 2017.
Their guiding angel.

Mike's beloved wife Julie truly embodied this spirit of kindness as a business model. Sadly, Julie unexpectedly passed away last September, but Mike's desire to continue her legacy has only grown stronger.

Before she passed away, Julie told Mike, "Preach kindness. Do not forget to be kind." Clearly, Mike hasn't forgotten. And neither has anyone else at Schulte Subaru.

In recognition of their excellence in customer experience and extraordinary commitment to their community, it's our honor to name Schulte Subaru the 2020 Subaru Love Promise Retailer of the Year.
Love. It's what makes Subaru, Subaru.